Zapraszamy na czwartki z owocami morza!
W każdy czwartek inne specjalnie danie z owocami morza. Szczegóły w kategorii Czwartek z owocami morza, dania serwowane tylko w lokalu
Weź udział w Programie lojalnościowym! Załóż konto i zbieraj punkty! Za zebranie 10 pkt dostaniesz 25 zł zniżki na zamówienie!
Warunkiem udziału w programie jest założenie konta. Za każde 71 zł otrzymasz 1 punkt.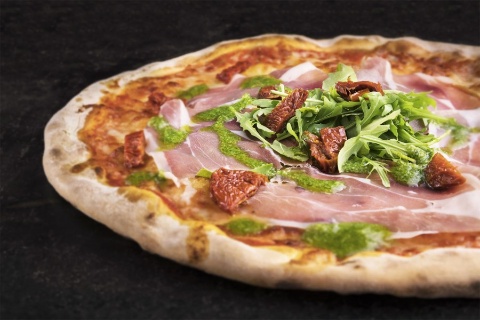 Polub na Facebooku Restauracja Carmelo i zaobserwuj na Instagramie i odbierz 10% rabatu na odbiór własny pizzy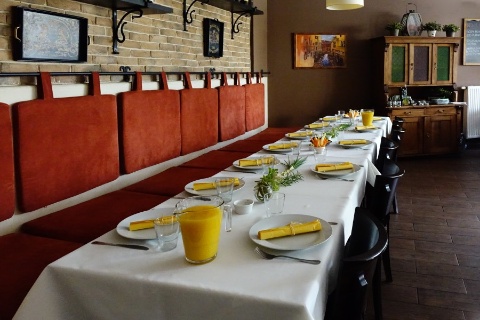 ŚWIĘTUJ w Carmelo!
Serdecznie zapraszamy do świętowania w Carmelo imienin, urodzin lub organizowania spotkań z przyjaciółmi! Polecamy skorzystać z naszego Pakietu Startowego: Wódka Khortytsa 0,5 l oraz 2 dowolne napoje za 50 PLN!
Morszczuk w tempurze z sosem hoisin makaronem soba i warzywami
Garlic bread with cheese
Wheat bread, garlic butter, mozzarella
Bruschetta with fresh tomatoes
Wheat bread, garlic, tomatoes, basil, olive oil
Bruschetta mix : with tomatoes,with mushrooms,with shrimps,with olives tapenada
Bruschetta with Black Tiger Shrimps
Wheat bread, Black Tiger Shrimps, tomato, garlic, paprika, hot pepper, onion, truffle oil
Black Tiger shrimps fried in garlic olive oil
Served only in the premises
Black Tiger Shrimps , garlic olive, bread, lettuce , tomato, onion ,cucumber, paprika , sauce vineigrette
Beef sirloin carpaccio
Beef sirloin, lettuce arugula, wild mushrooms, onion, capers, olive oil, parmesan
Black Tigers prawns in wine sauce with rice
Black Tiger prawns,white wine,sour cream,garlic,rice,parsley
PIZZA
Wood fired pizza 32 cm . New - wholemeal dough pizza !
Focaccia with rosemary and olive oil
Focaccia with pesto rosso
Focaccia with pesto sauce
Caesar salad
Lettuce mix, grilled chicken, tomato, croutons, 'cezar' sauce
Mix of salads with grilled chicken and fried vegetables
Lettuce, chicken, baked zucchini, mashrooms, paprika, red onion, vinaigrette sauce
Fried goat cheese with salad in fig sauce
Lettuce mix, goat cheese, grapes, caramelised pear, fig sauce
Mix of salads with grilled Black Tiger Shrimps
Mix of lettuce, black tiger shrimps, tomatoes, cucumbers, peppers, garlic, honey-lime sauce
mix of letuce,seafood,tomato, courgette,bell pepper,farfale,sugar peas,nicoise sauce
Super food salad with halloumi cheese and pomgranate
Arugula,salad,halloumi cheese,toamtoe,pineapple,pomegranate,orange sauce
Meat lasagne from the oven
Served only in the premises
Pasta, minced meat, tomato sauce, béchamel sauce, parmesan
Carbonara sauce
Bacon, parmesan, cream
Bolognese sauce
Minced meat, vegetables, parmesan
Cream cheese sauce with spinach
Gorgonzola, spinach, cream, chilli, parmesan
Pork tinderloin and wild mushrooms sauce
Pork sirloin, mashrooms, cream sauce
Grilled chicken breast with dried tomatoes and spinach sauce
Chicken, spinach, dried tomatoes, parmesan, cream
Black Tiger and spinach sauce
Black Tiger prawns, spinach, butter, chilli
Parmigiano chicken with cheese gnocchi and arugula salad
Ribs BBQ or with honey-mustard sauce with french fries and salad
Marinated cod fish with cider sauce with tagliatelle al nero and sugar peas
Wild boar hamburger with romanesco sauce,french fries and salad
Fillet Mignon with chef's sauce,trufle puree and super food style salad
Served only in the premises
Spaghetti with tomato sauce
Spaghetti with bolognese sauce
Crispy chicken fingers with French fries
Hot Apple pie with ice cream
Served only in the premises
Vegetable curry with smoked tofu